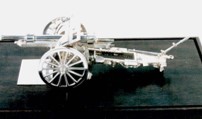 Curator's pick - 80 years since the escape from France
---
Our Honorary Secretary Huw Jones picks another favourite object - a Silver model of 18 pounder field gun
12 June 2020 marks the 80th anniversary of the escape of 385 (Duke of Connaught's Own) Battery of the Kent Yeomanry, from France in 1940. The KY was then serving as 97 (KY) Field Regiment, Royal Artillery. Its successors, and especially 385's old comrades, marked the anniversary as their regimental day.
In 1939 the KY went to France as part of the British Expeditionary Force. Most of the regiment was evacuated via Dunkirk but 385 Battery, commanded by the then Major William Mullens, had been detached to 51 Highland Division. This formation was working with French forces further south and withdrew, with the French, to the port of St Valéry en Caux in Normandy.
On 11 June the Battery was ordered to cover the evacuation overnight of the rest of the division. It remained in action until 4am the next day, standing alone for the last hour as the supporting infantry had been withdrawn. The Battery's guns were then destroyed and the soldiers marched into St Valéry, only to find that no ships had arrived and that the Division was preparing to surrender.
Two junior officers of the KY took a motorcycle and reported, however, that they had found British ships at a beach six miles south of the town. By this time it was getting light and the road to the south was under heavy enemy shell and machine gun fire. Even so Major Mullens led his Battery to the beach. At one stage its way was blocked by a party of Germans holding a village. The Battery, unarmed except for a few revolvers, charged and the enemy, thinking it was a strong counterattack, fled.
The whole party of nine officers and upwards of 160 men made it back to England. It was the only intact unit of the Division to do so: nearly 10,000 British and 14,000 French troops were captured.
The Battery had fired probably the first British artillery rounds of the campaign and was almost certainly the last out of action. Inevitably some members of the KY had become detached in the chaos and it was some months before the last strays returned, often after lengthy and hazardous journeys.
Major Mullens was awarded the Distinguished Service Order (DSO) for the "courage, initiative and resource" that he had displayed in getting his battery away intact. He rose to command the Regiment in 1943, leading it throughout the Italian campaign and until the end of the war. He was later knighted and became Honorary Colonel of the Kent & Sharpshooters Yeomanry. The silver model was presented on his retirement from that post in 1975, after 46 years' service with the Regiment.
You can read a fuller biography of William Mullens at "The Treasurer"
For an account of one of the regiment who had to make their own way home, see Keith Rae "The Escapee"