Sharpshooter News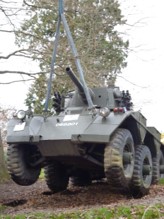 Great turnout for annual maintenance day
---
It was great to see so many volunteers at the museum yesterday for our annual maintenance day, and to welcome some new faces.
Inside the museum, we cleaned and updated our displays, placed new captions, finalised the school handling collection, and did more work to our interior tank turret reconstruction.
Outside, our friends from REME brought along some serious lifting equipment which enabled us to reposition the Saladin Armoured Car and Field Gun.
---