Sharpshooter News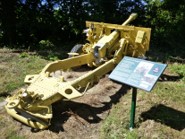 Field gun pays tribute to WW2 desert campaigns
---
Our volunteer conservation team of Michael and Peter, after doing an excellent job repainting the Saladin armoured car in July, have taken advantage of the good weather to repaint the 25 pounder field gun. Many thanks to them both for giving up their weekends to do this.
We had a healthy debate over which World War Two colour scheme to use on the field gun - should it be the sand of the Western Desert or the greenish camouflage used in Italy - 25 pounder field guns saw action with the Kent Yeomanry in both. In the end we decided on the desert paint, and you can see in the photos what a stunning effect has been achieved.
We hope that the Field Gun, respledent in its desert colours, will draw the interest of visitors to the displays inside the museum, and to the stories on our touchscreens, of the distinguished service of both the Kent Yeomanry and the Sharpshooters in the Western Desert in 1941-1943. We are sure that Noball would approve!
---