Sharpshooter News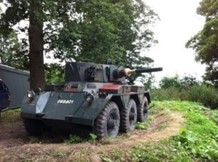 Your Saladin Needs You
---
Now that the weather is (sometimes!) better, we plan to continue our conservation work on our static display items.
The Saladin will be first: we plan (weather permitting) to complete the rust-proofing on Saturday 16th July; then do the overpainting on Sunday 17th July.
A team of four should be sufficient. Would you like to be there?
If so, please contact volunteers@ksymuseum.org.uk with your name and contact number (in case the weather is against us), and an indication of your availability on the days.
TIMINGS:
Please be outside the main gatehouse at 10-30 prompt so you can be issued with a lanyard, which will allow you free admission to the grounds on the day. We will stop by 17-00 to allow for clearing up.
PLEASE BRING:
Painting clothes!
And if you have a scraper, so much the better! (We'll provide paintbrushes and wire wool.)
Drinks and a packed lunch (or use Hever's facilities).
---