Sharpshooter News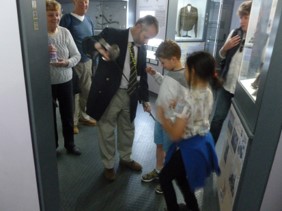 Fun and rain at the Home Front weekend
---
As part of Hever Castle's Home Front weekend on 25/26 June, the museum volunteers laid on an exciting programme of activities for the public, which complemented the events laid on by Hever Castle. The frequent rain showers were a challenge, but never dampened the party spirit.
David Whitehouse teaches sword drill to young visitors
Chris Sutton presents a compass to the competition winner
Peter Crowley has a chinwag with a visitor
Dan Taylor dresses for the part, to narrate this epic Sharpshooter
story from the campaign in Italy in 1943
Outside the pillbox, tour guide Guy Farage is dressed for adventure....
---