Sharpshooter News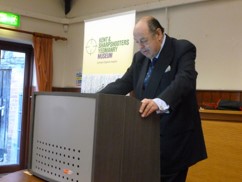 Churchill talk on day of high political drama
---
We were delighted to welcome our Honorary Colonel, the Rt Hon Sir Nicholas Soames MP, to Rickards Hall in Edenbridge on Friday 24 June. We had a packed house, with 68 guests, including lots of new faces from the local community.
On a day of high political drama – the EU referendum result had been announced earlier in the day - Sir Nicholas enabled to stand back from the fray and get the perspectives of his grandfather, Winston Churchill, one of the country's greatest ever leaders.
Comments afterwards from the audience included:
"Top class speaker, excellent subject"
"Empathy with subject – especially good with questions"
"The history, humour and reading suggestions. A wonderful man."
"I thought I had read everything about Churchill. I learned new things tonight"
"Intimate nature of the lecture. Felt to be touching history."
"A very timely and poignant talk"
We also held a voluntary collection at the door for ABF-The Soldiers Charity, which raised £332.
---