Sharpshooter News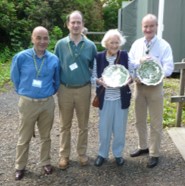 Two wedding salvers
---
The museum is delighted to have been presented with two silver salvers which were presented to two officers of the Kent Yeomanry by their brother officers just before WW2. On 18 June Dr Peter Burrows visited the museum and presented the salver that was given to his father Captain Anthony Burrows. Then on 25 June Mary Campbell, the 98 year old widow of Captain Neil Campbell, presented the salver that was given to her husband Neil.
These are identical pieces, showing really beautiful craftsmanship. The signatures of all their brother officers are inscribed into the silver, and so the Burrows salver includes the signature of Neil Campbell, and the Campbell salver includes the signature of Anthony Burrows.
The trustees are most grateful to the Burrows and Campbell families for these generous donations, which are now proudly displayed side by side in our museum
The photo shows Mary Campbell outside the musuem with Michael Achow, Huw Jones, Peter Crowley and the two salvers.
---