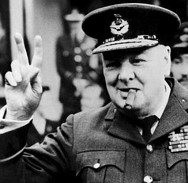 Churchill talk and Home Front weekend
---
32 members of the public enjoyed an insighful talk by Dan Taylor, our museum curator, at Rickards Hall in Edenbridge on 12 April. Dan's theme was the story of the Battle of Villers Bocage in Normandy on 13 June 1944, which is a celebrated battle honour for the regiment. Dan showed how the story of the battle has been distorted across the years, first by German propaganda, and then by American authors who were keen to downplay the achievements of Field Marshal Montgomery. Dan's original research, having talked with many veterans of the battle, shows that rather than being a German victory, or indeed a stalemate, the outcome of the battle was a success for British forces.
The museum trustees are pleased to confirm our next talk, on Friday 24 June, again from 1930-2030 at Rickards Hall on Edenbridge High Street (off the courtyard behind the Eden Valley Museum). Our Honorary Colonel of the Kent and Sharpshooters Yeomanry, the Rt Hon Sir Nicholas Soames MP, will share insights about his grandfather, in a talk entitled "Churchill - the man"
Entry is free of charge. To secure your place, tickets may be obtained from tickets@ksymuseum.org.uk or at Legrys Estate Agents, High Street, Edenbridge (up to 5pm on 23 June). Capacity 80. There will be no unticketed access, so please book quickly if you wish to attend.
We are also keen to hear from any member of the regimental family, or the wider public, who would like to help the trustees to run museum-related activities in the grounds of Hever Castle as part of Hever Castle's Home Front weekend on 25/26 June. Please email tickets@ksymuseum.org.uk if you are interested, and we will let you have more details. Also, at 1030 on Sunday 26 June, Eugenie Thomas, daughter of the late Boris Mollo, will officially open the Boris Mollo gallery within the museum building at Hever.
All talks and events are sponsored by the Kent and Sharpshooters Yeomanry Museum Trust, and the Heritage Lottery Fund