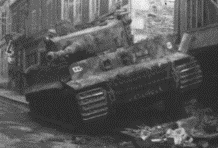 12 April 2016 - talk on the 1944 battle of Villers Bocage
---
45 members of the public braved a rainy evening in Edenbridge on 8 March, to hear an excellent talk on the battle of Waterloo from the perspective of the soldiers who fought in it, given by the Honorary Colonel of the Royal Yeomanry, Lt General Sir Barney White-Spunner.
The museum trustees are pleased to confirm our next talk, on Tuesday 12 April, again from 1930-2030 at Rickards Hall on Edenbridge High Street (off the courtyard behind the Eden Valley Museum)
Our museum curator Dan Taylor, and eminent French historian Yann Joualt, will examine how the story of a battle evolves over time. Through propaganda messages, and generations of historians re-interpreting battles for new audiences, the truth can be hostage to many masters. Using the battle of Villers Bocage, fought in Normandy a week after D Day in June 1944, the stories told by successive accounts are examined in order to discover the true path of this most significant and misunderstood engagement.
Entry is free of charge. To secure your place, tickets may be obtained from tickets@ksymuseum.org.uk or at Legrys Estate Agents, High Street, Edenbridge (up to 5pm on 11 April). Capacity 80. Spare seats will be allocated on the evening on a first come, first served basis. Copies of the books of both speakers will be available for purchase.
Our next scheduled talk, at the same venue and time , will be on Friday 24 June. The theme is the life of Sir Winston Churchill, and the talk with be given by his grandson the Rt Hon Sir Nicholas Soames MP, Honorary Colonel of the Kent and Sharpshooters Yeomanry.
All talks are sponsored by the Kent and Sharpshooters Yeomanry Museum Trust, and the Heritage Lottery Fund.