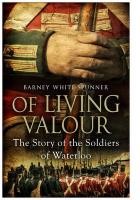 8 March 2016 - The battle of Waterloo as told by the soldiers
---
The 2016 season of talks kicks off on Tuesday 8 March, 1930-2030 at Rickards Hall, Edenbridge High Street. Lt General Sir Barney White-Spunner, Honorary Colonel of the Royal Yeomanry, will give a talk on the Battle of Waterloo, from the soldiers' perspective, based on the research in his recent book, Of Living Valour"
The talk is free, but we have a total of 100 seats - so its best to reserve your seat with a ticket in advance. Tickets are available by emailing tickets@ksymuseum.org.uk. or in person at Legrys estate agency in Edenbridge up to 1700 on 7 March,
Copies of General Barney's book will be avaialble for purchase on the evening, and we will be taking a collection for SSAFA, the armed forces charity.
Further dates for you diary
Tuesday 12 April 1930-2030, Rickards Hall, Edenbridge High Street
Villers Bocage – autopsy of a World War 2 battle
A fascinating talk on a major Normandy tank battle that took place in the small town of Villers Bocage on 13 June 1944, a week after the D Day landings. The lightly armoured Sherman tanks of the 4th County of London Yeomanry were intercepted by the powerful Tiger Tanks of the German Army. It was a costly battle. Hitler claimed it is as a propaganda victory for the Germans. But was he right?
Historians Dan Taylor from the KSY Museum, and Yann Joualt from France will provide fascinating insights into what really happened, and why the result was actually a victory for the British.
Free of charge. To secure your place, tickets can be obtained from tickets@ksymuseum.org.uk, or at Legrys in Edenbridge High Street, up to 1700 on 11 April. Spare seats will be allocated on the evening on a first come first served basis.
Friday 24 June 1930 - 2030 Rickards Hall, Edenbridge High Street
Churchill - a personal perspective
A public talk on Sir Winston Churchlll by his grandson, the Rt Hon Sir Nicholas Soames MP, Honorary Colonel of the Kent and Sharpshooters Yeomanry
Free of charge. To secure your place, tickets can be obtained from tickets@ksymuseum.org.uk, or at Legrys in Edenbridge High Street, up to 1700 on 23 June. Spare seats will be allocated on the evening on a first come first served basis
On Saturday 25 and Sunday 26 June, Hever Castle Limited are holding an "Home Front" Weekend in the castle grounds. During that weekend, we will be holding a range of great activities at our museum in ths castle grounds - keep an eye out on this website for more details