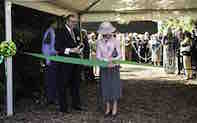 HRH Princess Alexandra Opens New Museum at Hever Castle
---
On Sunday 6th September 2015, HRH Princess Alexandra officially opened the Kent and Sharpshooters Yeomanry Museum at Hever Castle in Kent. Over 500 guests attended the opening ceremony, in glorious late summer sunshine.
The day began with an inspiring talk by Professor Sir Hew Strachan about the Yeomanry during World War One. Guests then enjoyed demonstrations by World War One re-enactors and the opportunity to picnic in the beautiful grounds of Hever Castle.
The Honorary Colonel of the Kent and Sharpshooters Yeomanry, the Rt. Hon. Sir Nicholas Soames MP, took the salute at the military parade on the castle forecourt. The parade involved serving members of the regiment, members of the Regimental Association and the Royal Russell School CCF, together with the band of the Royal Yeomanry (Inns of Court and City Yeomanry), which played by kind permission of the Commanding Officer, Lt Col Simon McMenemy..
HRH Princess Alexandra, Royal Honorary Colonel, The Royal Yeomanry, arrived at the site of the new museum, and was greeted by the Lord Lieutenant of Kent, the High Sherriff, the chairmen of Sevenoaks District and Kent County Councils, the MP for Tonbridge and Malling, Mr John Guthrie the chairman of Hever Castle Limited, Lt Gen Sir Barney White-Spunner (Honorary Colonel of the Royal Yeomanry), and trustees Guy Farage and Chris Sutton. She chatted with the builders, curators and selected schoolchildren, and then toured the museum.
Subsequently Chris Sutton, chief executive of the museum trust, gave a brief speech to thank HRH Princess Alexandra for returning to open the new museum, thirty years after she opened our original museum in the Hever Castle keep, and to thank all the donors, volunteers and contributors who have made the project such a success. He mentioned in particular the Heritage Lottery Fund, represented by South East Regional Chairman Paul Hudson, and the Armed Forces Community Covenant - we were delighted to have officials from SSAFA and the ABF with us at the event.
HRH Princess Alexandra then cut the ribbon and declared the new museum open, before spending time talking with the band, donors and contributors, serving soldiers, old comrades and members of the public. Guy Farage, chairman of the museum trust, then invited her to unveil a plaque to commemorate the occasion.
After her departure from Hever, our guests all enjoyed afternoon tea in the Guthrie pavilion, where we celebrated the achievements of Boris Mollo, who has now handed over the curatorial reins to Dan Taylor after 48 years of exceptional service.
Thank you to everyone involved in the day and we look forward to welcoming you back soon!!