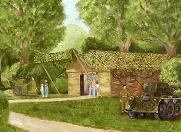 Kent and Sharpshooters Yeomanry Museum Advancing on New Headquarters
---
The Kent and Sharpshooters Yeomanry Museum will march into new, purpose-built facilities next year after reaching its £275,000 fundraising target.
The new museum will act as a living, interactive archive of the Regiment, which was first formed in Kent in 1794, inspiring visitors of all ages with the lives and achievements of the serving Yeoman of Kent and the County of London. The regiment gained distinction in two World Wars, and today has serving squadrons – part of the Reserve Army – in Bexleyheath and Croydon.
It will cover life at war and on the Home Front, with medals, uniforms, militaria, film clips, oral histories, and a WW1 Gallipoli trench experience among the engaging touch screen displays and artefacts set to be on show.
The museum will remain at Hever Castle, relocating from its current location within the castle keep to a new spacious building, camouflaged to resemble a military operations tent, situated in the castle grounds. An exciting programme of outreach activities in schools and the community is planned once the new building opens in summer 2015. The details of this programme will be announced in 2015.
The Kent and Sharpshooters Yeomanry Museum Trust launched its Tent in the Park appeal in December 2013. It reached its £275,000 target thanks to large donations from the Heritage Lottery Fund, Armed Forces Community Covenant Trust (in partnership with Sevenoaks District Council), Cory Environmental Trust in Britain (CETB) and Garfield Weston Trust, and numerous smaller donations from organisations and individuals.
The Rt Hon Sir Nicholas Soames MP, Honorary Colonel of the Kent and Sharpshooters Yeomanry, said "We are tremendously grateful to all our donors for helping us to reach our fund raising target, and we look forward to welcoming everyone to the new museum in summer 2015, to mark the centenary of the Gallipoli campaign in which the Regiment fought. We are also most grateful to the management of Hever Castle Limited for donating the new museum building for our use".
Chris Sutton, Chief Executive of the Kent and Sharpshooters Yeomanry Museum Trust, said "The new museum, and the programme of outreach activities, has already created a lot of interest in the community around Hever, and with local schools. We are keen to talk to anyone who would like to join our team of volunteers, to help run the new museum and our outreach events."
Councillor Peter Fleming, Chairman of Sevenoaks District Council, said "We welcome this new visitor attraction in our community. The District Council signed up to the Armed Forces Community Covenant in 2013, in order to give greater recognition and support to former and current servicemen and women in our community, and the new museum will be an excellent focal point for promoting these objectives".
Angela Haymonds, Trust Secretary at Cory Environmental Trust in Britain, said: "We are delighted to have provided funding through the Landfill Communities Fund for the new Kent and Sharpshooters Yeomanry museum, which forms part of our commitment to support projects local to Cory Environmental's operations that bring benefit to local communities."
Philippa Charles, Director, the Garfield Weston Foundation, commented "We are pleased to support this project which will bring benefits for schools, the local community and members of the Armed Forces past and present".
For more information about the Kent and Sharpshooters Yeomanry Museum visit www.ksymuseum.org.uk, or contact Chris Sutton at ceo@ksymuseum.org.uk
ENDS

Notes to Editors
Kent and Sharpshooters Yeomanry Museum Trust
1. The Kent and Sharpshooters Yeomanry Museum Trust is registered with the Charity Commission for England & Wales, number 273329.
2. The Trust is a member of the Museums Association. The Association of Independent Museums, and Kent Museums. It is also a member of the First World War Centenary Partnership led by the Imperial War Museum.
Cory Environmental Trust in Britain
1. Cory Environmental Trust in Britain (CETB) is an Environmental Trust set up under the Landfill Communities Fund (LCF) (formerly known as the Landfill Tax Credit Scheme) under the Landfill Tax Regulations 1996. Its funds are derived as a result of a tax placed on waste that is sent to landfill. CETB funds projects that bring benefit to local communities close to an active landfill site.
2. Project's objectives must match one of the approved LCF criteria and may include refurbishment of churches or buildings of architectural or historical significance, or general amenity projects, such as improving disabled access or improvements to parks and nature reserves.
3. Cory Environmental, one of the UK's leading recycling and waste management companies, operates across the country and employs over 1,400 people at around 40 sites. The company provides a wide range of integrated services, from street cleansing and municipal waste collection to recycling, transfer and disposal. Cory's services have been recognised with a number of awards for sustainable transport, the management of facilities and city cleanliness.
About the Heritage Lottery Fund
1. Using money raised through the National Lottery, the Heritage Lottery Fund (HLF) aims to make a lasting difference for heritage, people and communities across the UK and help build a resilient heritage economy. From museums, parks and historic places to archaeology, natural environment and cultural traditions, we invest in every part of our diverse heritage. HLF has supported almost 35,000 projects with more than £5.3bn across the UK. www.hlf.org.uk.