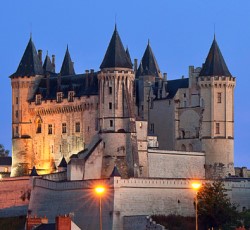 THE SAUMUR SWEEPSTAKE 2020
---
Join us in La Belle France for the "Saumur Sweepstake" in the Spring of 2020. In April of next year The Sharpshooters' Bus Company is proposing a 7 day trip to Saumur in France, the traditional home of the French cavalry on the banks of the river Loire. There we will be visiting the world famous Cadre Noir (the French equivalent of the Spanish Riding School), the French tank museum and the cavalry museum, plus the local chateau and the charming mediaeval town of Sitré. The trip will be open to all Sharpshooters and our friends in the Royal Gloucestershire Hussars Association.

The proposed itinerary is as follows:
Day 1 : Coach departs Hereford. Pick up for the RGH in Cheltenham or Gloucester, followed by the KSYA in Croydon, then on to Portsmouth for night crossing to St. Malo.
Days 2 -4: On to the Mercure Hotel Saumur (about 2 1/2 hours' drive from St. Malo). Daily excursions to include the cavalry museum, Cadre Noir and chateau. There will also be a low key wreath laying at the French cavalry memorial at some point during the stay for those that wish to attend.
Day 5: Return to St. Malo, stopping for lunch and couple of hours looking around the mediaeval town of Sitré. Evening meal and overnight stay in St. Malo.
Day 6: Daytime crossing back to Portsmouth, arriving early evening with accommodation and "endex" meal in the Portsmouth Marriott Hotel.
Day 7: Leisurely departure, with the coach returning to Hereford via the drop off points.
With the exception of the final evening meal in Portsmouth, accommodation will be on a bed and breakfast basis, with plenty of local restaurants to choose from for lunch and evening meals. Cabins will be booked in both directions on the ferry to allow us to relax and have a snooze between visiting the shops, restaurants and bars on board.
We plan the trip to be late April 2020, although the dates can't be finalised until the Cadre Noir issue their 2020 timetable around July this year. At this point, if we have sufficient interest we will request deposits and make the necessary bookings. Price is expected to be around £700 per person, based on two sharing a room, with single accommodation available on payment of a supplement (although a single room is no cheaper than a twin/double, so find a friend!). The estimated price is based on a party of at least 24 on a full size luxury coach.
Anyone who is interested in joining the trip should contact Dave Carter on davidcarter6@btconnect.com
He'll then keep you posted through the summer as to whether or not the trip proves viable.

Vive la France!