Sharpshooter News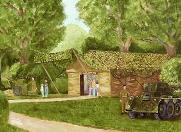 The Tent in the Park
---
Dear Sharpshooter,
CONSULTATION ON FUND RAISING FOR NEW MUSEUM
The long promised new museum at Hever has reached a significant step forward, with the owners of Hever Castle having formally approved the go ahead. As soon as Hever have got planning permission, we will commence fundraising, targeting the lottery, institutions and personal donations. While the total funding required is currently in final negotiation with the designer, the order of magnitude is £200k - £250k. We will of course let you know when the Trustees are ready to push the button to launch the fund raising campaign.
In the meantime, we would welcome your ideas on how to encourage and incentivise personal donations. In common with other charities, we propose tiered recognition of donors, and "best practice" is to have four levels. As an example (and these numbers, including gift aid, are purely illustrative) we might say:
Donors £1-£500
Stewards £500-£1000
Patrons £1000 - £10000
Founders £10000+
Stewards and above would get their name recorded on an honour board in the museum. Donors might be recorded in a book at the museum. We would also invite donations, at a minimum level of say £500, to be made "in memory of" a deceased member of the regiment, which we would record on the honour board. It will also be possible for individuals to club together to do an 'In Memoriam' plaque for an individual Sharpshooter or Kent Yeoman who has been KIA during the Boer War, Great War or WW2. I can provide a list of names and gallantry award winners that you might want to consider as well as those who did not receive an award but who are still worthy of commemoration.
We welcome your views of the appropriate levels, and the concept of "in memory of" donations? Please let Simon Malik and or Tim Rayson know before the end of April via email if possible.
An artists impression of what the new Museum will look like is shown below.
Regards
Tim
---